Cattle For Sale:
Cows and Heifers for Sale – Lindsay, Ontario
Two cows for sale:  3rd lactation cow and 2nd lactation cow (by Diamond Jack).  Also a Milking Shorthorn/Ayrshire crossbred cow.
Also two heifers for sale, both by Oceanbrae Ironman-P.  Born Dec'17 and Sept'18.
Contact Edward Martin at (705) 324-3869.
---
Sleepy G Logic's Jenny (pedigree)
born February 2014.  100% Purebred.
bred AI April 12th, 2018 to Bertie.  Exposed naturally to Highland bull (easy calving)
Sired by GMC Rebel Logic
Dam:  Maple Inn Janice 4th EX-90-2E
Located in Pass Lake, Ontario
For more details, contact Brendan Grant at (807) 977-1631 or sleepygfarm@gmail.com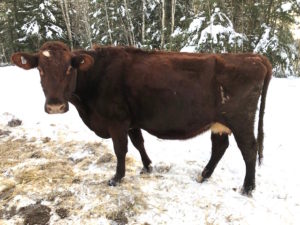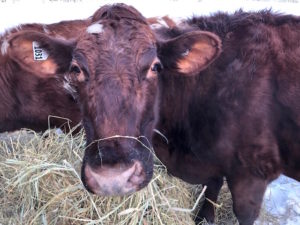 Embryos For Sale: