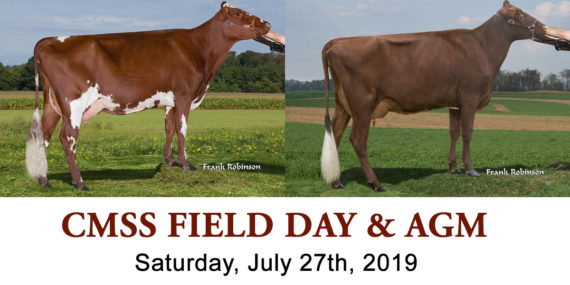 Saturday, July 27th, 2019
Schomberg, Ontario
10:30   Tour of Headacher Milking Shorthorns
16380 10th Concession, Schomberg, Ontario
12:30    Lunch at Trisan Centre
25 Dillane Dr, Schomberg, Ontario
1:00      Presentation of Awards and Fun Auction
2:30      CMSS Annual General Meeting
Block of rooms reserved at:
Holiday Inn Express & Suites Newmarket
100 Pony Drive, Newmarket, ON
Tel: (905) 853-1030 Group Code: CMC
Reserve by June 26th. After that date, block will be released.
Direct link for online reservations:  click here
Please indicate your attendance by July 14th to
milking.shorthorn@gmail.com or (902) 439-9386
Headacher Milking Shorthorns is owned by Jenna Kippen.  She is the breeder of two time National Show Grand Champion Headacher Logic Doris and also bred the dam of two time National Show Grand Champion Richford Ironman Iceland.  Jenna has a top-notch small herd of Milking Shorthorns, and animals she has bred have succeeded for other breeders as well.  
We look forward to seeing you in Schomberg on July 27th!
---
Proposed Bylaw Amendment
The CMSS Board of Directors has proposed the following amendment to the CMSS Bylaws, to be voted on at the 2019 Annual General Meeting on July 27th, 2019 in Schomberg, Ontario:
Addition to section 20. Special Considerations for Registration
4.  Male animals born after January 1, 2020 will require a DNA test to verify parentage to be eligible for registration.
Rationale:  The majority of other Canadian dairy breeds have adopted a policy to verify the parentage of bulls in order to maintain herd book accuracy.  This brings the CMSS in line with other breeds as well as other international Milking Shorthorn societies.
This amendment will be tabled for discussion and a vote at the AGM on July 27th.