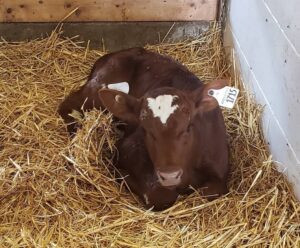 (Kensington, PE – May 5th, 2021) The Canadian Milking Shorthorn Society is excited to unveil its new Embryo Expansion Program in an effort to make high-quality Milking Shorthorn genetics available to interested producers across Canada.
In this program, Canadian dairy producers will be invited to apply to the CMSS for an opportunity to purchase high-calibre Milking Shorthorn embryos sourced from leading herds at a subsidized cost. In the first year of the program, three producers will be selected (one producer each from Ontario, Quebec, and the rest of Canada) to purchase a group of four embryos at a subsidized price of $250/embryo direct from the Society. In addition, these successful applicants will also receive a free membership to the Society and 5 doses of semen on a CMSS Syndicates/Semex sire. 
Successful applicants will be chosen based on criteria including participation in breed improvement programs and interest in the Milking Shorthorn breed. Preference will be given to producers that do not currently have Milking Shorthorn cattle or that are very new to the breed.
According to CMSS President John Eccles, "the Embryo Expansion Program provides a unique opportunity for dairy producers who are interested in the Milking Shorthorn breed but unsure of where to start in terms of accessing high quality genetics. I want to thank CMSS Director William Roy-Dubuc for sparking the idea to develop this program. William is a relatively new Milking Shorthorn breeder and had a great idea to develop a program to encourage breed expansion." 
Application forms are now available here. (Fillable PDF)
The deadline for entries is July 1st, 2021 and can be submitted to the CMSS office at milking.shorthorn@gmail.com. For more information on this program, please contact Ryan Barrett, Secretary-Manager of the Canadian Milking Shorthorn Society.