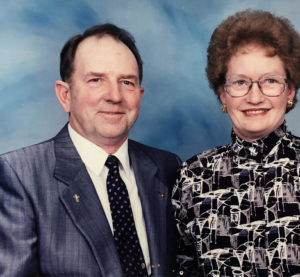 The Canadian Milking Shorthorn Society's Distinguished Service Award is periodically awarded to individuals who have made a significant contribution to the breed through their service to the Society as well as their successes in breeding Milking Shorthorn cattle.  This year, the CMSS is proud to recognize the late Barry and Jean Haggett of Fieldcrest Farms with the breed's highest recognition.Barry and Jean Haggett were married in 1958 and purchased their own farm in Addison, Ontario (near Brockville) in 1960.  They started their own dairy herd in 1965, initially with Holsteins.  However, Jean had a history with the Shorthorn breed, as both of her grandfathers raised Dual Purpose Shorthorns.  So, they added their first Milking Shorthorns in 1988 from Watermead Farms in Manotick.  While they intended to just add a few Shorthorns to the herd, they were so pleased with how they performed that by the mid 1990's, Milking Shorthorns had almost completely replaced their Holsteins.
After this rapid herd conversion, the Haggetts were very active in the Society.  They were frequent exhibitors at Peterbough and Lindsay Fairs as well as at the Royal Winter Fair in Toronto.  They also exhibited at the New York State Fair in Syracuse and were members of the New York Milking Shorthorn Association.  They were also active in the Ottawa Valley Shorthorn Club, actively promoting the breed in Eastern Ontario and starting several new breeders with their first Milking Shorthorns.  They were strong supporters of the CMSS National Sale, frequently consigning quality animals as well as purchasing quality animals for their growing herd.
Barry and Jean hosted the CMSS Field Day in 1994, with approximately 130 people in attendance that day!  Both Barry and Jean served as CMSS Directors for a number of years, and Jean helped design the new CMSS logo after changing the name of the Society.  Barry was the CMSS President at the time of his passing in 2002.
Over the years, the Haggetts bred some cows that would achieve significant success.  Fieldcrest Rubin Pearl EX-92-8E was a Six Star Brood Cow who was Grand Champion at Lindsay in 2001 for Lynmark Farms.   Her daughter, Fieldcrest Prime Jewel, was 1st Four Year Old and Grand Champion at the RAWF in 1999 for GMC Farms.  Fieldcrest Ideal-P EX-92-4E was a Five Star Brood Cow for Oceanbrae Farms and is the dam of current Top 5 LPI sire Oceanbrae Ironman-P.  One of their true herd favourites was Fieldcrest Quest EX-92-4E, producing more than 70,000 kgs of milk in seven lactations as well be being a former #1 LPI cow in Canada.  A grand-daughter of Quest (Fieldcrest Picolo Quest 3) recently scored EX-90.
The Fieldcrest Herd was dispersed in 2004 following Barry's death and the family's exit from dairying at the time.  While the BSE crisis was in full force at the time, depressing cattle prices, some quality Fieldcrest animals went to other Canadian herds across the country.  When Barry and Jean's son John re-entered the dairy industry, he was able to reacquire their herd favourite Quest, and a number of her descendants are still in the Fieldcrest herd today.
The Society was very happy to have the Haggett Family, including Jean, attend the 2017 Field Day in Prince Edward County.  Unfortunately, Jean passed away in December 2017 after a battle with cancer.
Both Barry and Jean are fondly remembered by fellow breeder for their humility, graciousness, commitment to family, and advocacy for the Milking Shorthorn breed after joining the breed later in their farming career.