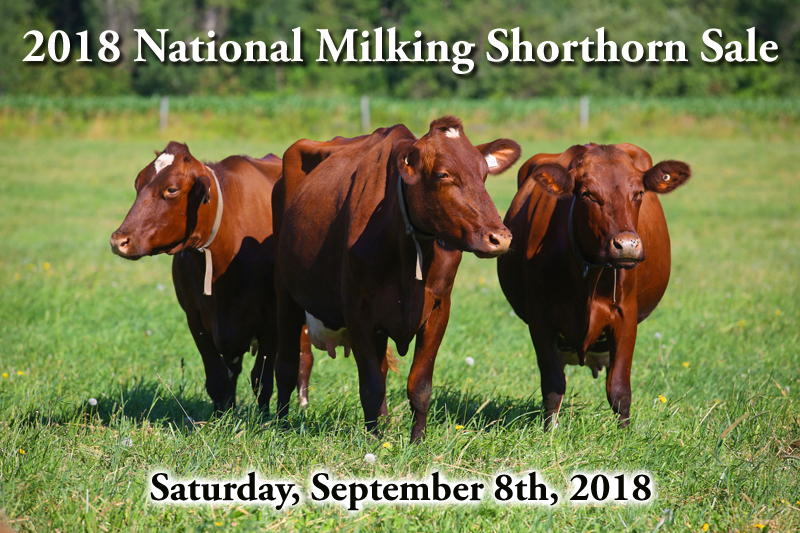 Sale Date:  Saturday, September 8th, 2018
Reserve Bids posted September 1st.  Visit each page to see reserve bids.
Once again, the Canadian Milking Shorthorn Society's National Sale will feature an impressive line-up of consignments of all ages from respected herds across Canada.  Each lot has it's own page, with the consignment list on the right hand side of this page. 
Our National Sale is a remote sale, featuring an online catalogue with full pedigree information as well as photos and videos of consignments and their family members.  Consignors would be glad to talk to interested parties in advance of the sale or to arrange a visit to see consignments in person.
Live bidding will be open from 2 pm to 9 pm ET on Sept 8th, 2018.
Advance bids will be accepted after 1 pm ET on Sept 7th, 2018.
Bids will be accepted by phone or text at (902) 439-9386
or by email at milking.shorthorn@gmail.com.
Sale Completed.
If interested in any of the unsold lots, contact Ryan Barrett.
Vente terminée.
Si vous êtes intéressé par l'un des lots invendus, contactez Ryan Barrett.

SALE TERMS & CONDITIONS
1.  Bidders who have not previously done business with the CMSS should register in advance of the sale by contacting the sale manager, Ryan Barrett, at the number or email address above. If you are planning to bid on multiple animals and have not previously done business with the Society we may ask for a letter of credit from your financial institution. If you call and you go to voice mail, please leave a message with your name, the lots you are bidding on and your bid and the sale manager will get back to you promptly.
2.  If health tests have been performed, results will be noted. If you would like additional health tests to be performed, please contact the sale manager at least two (2) full weeks in advance of the sale date.
3.  All consignors have the right to set a reserve price on each consignment. Animals not meeting their reserve price will not sell.  Reserve Prices will be posted on the sale website on September 1st.
4.  All consignments will remain at their home farms until payment is received in full and transportation arrangements are made. Consignors have been encouraged to provide estimates of trucking costs to a number of locations. For trucking costs to your area, please contact the consignor or the sale manager for an estimate. It is the responsibility of the consignor and seller to work together to arrange transportation with the assistance of the sale manager.
5. Transportation will be arranged with successful bidders after the sale, and the CMSS will help to make arrangements if necessary. For live animal and embryo consignments, the buyer agrees to pay all necessary transportation (and/or movement permits if applicable). Consignors have been encouraged to provide estimates of trucking costs to a number of locations. For trucking costs to your area, please contact the consignor or the sale manager for an estimate.
6.  Unless otherwise noted, every animal is sold as physically sound without noticeable blemish.
7.  Any female pregnant when sold or that has freshened within 90 days prior to the date of sale is by these facts considered a breeder. Should any female not pregnant when sold fail to conceive within six months of the sale date, or if less than 15 months old when sold by the time she reached the age of 21 months, that matter should be reported to the Seller in writing. The Seller will then have the privilege of 6 months of time in which to prove the animal a breeder before refunding full purchase price.
8.  Females bred when sold are presumed to be pregnant, but pregnancy is not guaranteed. The Seller makes no warranty that a female noted as safe in calf in the sale catalogue will deliver a live calf or that she will carry her calf to full term, nor is there any guarantee that the calf will not be mummified. Embryo transfer pregnancies as the same status as natural pregnancies.
9.  The highest bidder will be the buyer. In case of dispute, the animal will again be put up for bids. If there is no further bidding, the animal will be sold to the person from whom the last bid was accepted. The consignor has the option of putting a reserve bid on a consignment. Bidding will take place as normal until 9 pm EDT. If the reserve has not yet been reached, the highest bidder will be asked if they would like to meet the reserve. If they decline, the next highest bidder will be contacted. If no bidder reaches the reserve by the end of the bidding period, the animal is not sold, and the consignor will pay a set fee for cataloging and advertising instead of the customary commission.
10.  The consignor is responsible for submitting registration papers for transfer, and then sending the transferred paper to the new buyer upon receipt of payment.
11.  Payment is due by check, money order, or e-transfer to the Canadian Milking Shorthorn Society within 7 days of the sale. After payment is received, the animal is free to be transported to the new buyer. The CMSS will then pay the consignor minus commission fees. All prices are in Canadian dollars. Potential buyers who have not before done business with the CMSS should contact sale staff at least 24 hours before the sale to confirm financial arrangements.
12.  Arrangements should be made for transportation within 2 weeks between the buyer and consignor, unless both parties agree to an extension of this time frame. For animals purchased by American buyers, they are free to discuss housing options with the consignor until transportation can be arranged.